PT000359 - Plastic Rattan Chair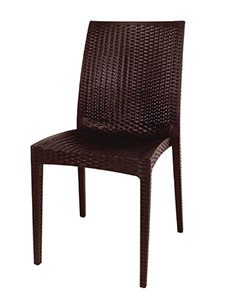 These lightweight, stackable chairs are ideal for patios.
They are made of sturdy, weather-resistant polypropylene and are therefore ideal for outdoor use.
These beautiful, brown chairs can be stacked up to 8 high and thus save a lot of space.
Specifications:
• Packing unit: 4
•
Dimensions:
35" (h) x 19" (w) x 20.5" (t)
• Material: Polypropylene
• Weight: 3.7kg
• Safely stackable up to 8 chairs
• Suitable for indoor and outdoor use
• Delivered fully assembled
• Seat height: 18"
• Plastic leg caps