The PMK1103 polycarbonate chair is a popular and stylish piece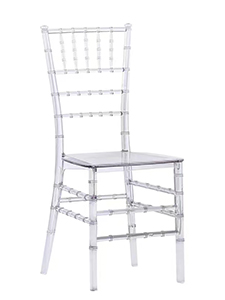 The PMK1103 polycarbonate chair is a popular and stylish piece of furniture that has gained popularity in recent years. This type of chair is made strong and is a modern and sleek appearance that complements any room decor. One of the main benefits of this chair is its versatility.
It can be used as a dining chair, office chair, or even as a decorative accent piece in a living room or bedroom. The transparent nature also makes it ideal for small spaces, as it doesn't take up visual space and can create an illusion of more space.
In addition to its aesthetic appeal, the acrylic ghost chair is also very durable and easy to clean. It's resistant to scratches and stains, making it a practical choice for everyday use. It's also lightweight, which makes it easy to move around and store when not in use.
The PMK1103 chair was quickly became a popular choice for modern and minimalist interiors.
Its popularity has only grown over the years, with many designers and homeowners incorporating it into their decor.
Overall, the chair is a stylish and versatile piece of furniture that offers both form and function.
Its transparent design and durability make it a practical choice for any home or office setting, while its modern appearance adds a touch of sophistication to any space.
Specifications:
• Available in clear polycarbonate.
• Size: 15.75" W x 15.65" D x 36" H
• Seat Height 17.75"
• Stackable up to 8 pcs
• Up to 285 lbs.