PMBF906 - Manicure Table with Locking Storage Drawer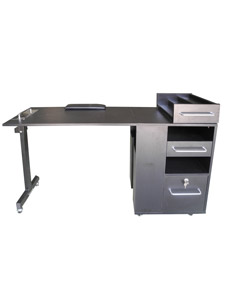 • Form and function are two important factors for good design.
• This manicure table has both of these properties and is designed to make your salon experience easier.
• The table sports a locking storage drawer for your most important supplies, plus a removable drawer perfect for table top displays.
• Complete with brushed nickel handles, the station securely supports a locking yet collapsible table top for saving space.
• Added wheels at its base keep the table mobile, while appliance holders in the bottom drawer keep everything with you at all times.
• Available in black/ cherry combination or solid black only.