PMBF302 - Pedicure Spa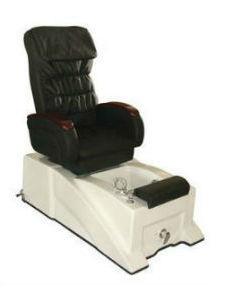 The PMBF302 Pedicure Spa is the #1 Selling Pedicure Chair. This pedicure chair features the new and ultra-sanitary technology and has magnetic jets that are extremely easy to clean. This pedicure unit features a sleek European design, an overflow drainage system, flexible stainless steel hose and rotating LED lights. The base and white basin are made of fiberglass reinforced acrylic for extreme durability and great longevity. The top features a 6 function vibration system for great relaxation and it also swivels for easy client access as well as slides and reclines to accommodate clients of any size. Electric chair and recliner together with massage feature from neck to lower back. This unit will give your customer the ultimate experience of comfort and pleasure as you get your pedicure.
Magnetic jets are extremely easy to clean. Made of fiberglass reinforced acrylic for great durability. Sleek European design, overflow drainage system & LED lights. 6 function vibration chair top w/ swivel and reclining motion. Adjustable feet cushion for desired height. 1 year warranty
Specifications:
• Overall: 53" L x 21" D x 40" H
• Base: 53" L x 30" W x 18" H
• Chair top: 24" L x 33" W x 31" H
Colors: black and white.