PMBF204 - Classically Styled Barber Chair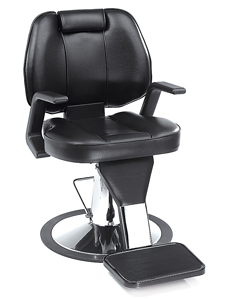 This is the classically styled barber chair. This premium luxurious hydraulic barber chair is a salon classic, which is perfect for any style of beauty salon, barber, and tattoo shop.
Designed to support larger customers, the chair features a padded calf rest, and super plush 6" padding on the 25" wide seat and the extra-large 20" wide back rest. This deluxe barber chair sits on top of a an extra-large 27" chrome base, steel frame and heavy-duty hydraulic pump designed to support up to 700lbs. This barber chair features a single lever handle that simultaneously reclines the backrest and raises the footrest, adjustable and removable head rest and chrome end caps on the padded and upholstered arms.
Classically styled barber chair. Seat
Dimensions:
25" x 20" Deep. Width: Inside Arms: 21" ; Overall: 29". Footrest and headrest. Stable - Tip Resistant. Black Vinyl Only. Some assembly required.
Important:
This is a very heavy item. It will be entirely your responsibility after removing the item from our facilities. This item is heavy and may require 2 or more people to unload.