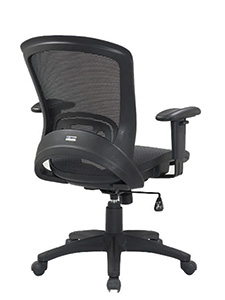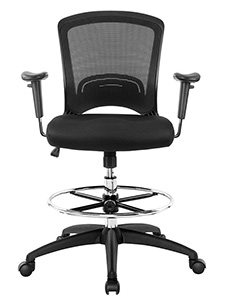 PM9029 - Mesh Mid Executive Swivel Ergonomic Office Chair
The PM9029 Mesh Mid Executive Swivel Ergonomic Office Chair with Adjustable Arms
Get your work demands down to a minimum and produce your best work on this task swivel office chair. This chair comes fully loaded to help you take charge of your day. With a ventilated mesh back, you'll have air circulating to your back giving you sweet relief during warm summer days. Make room for this modern beauty, upgrade everyone's chair in the office, granting everyone the ability to have a customized seating experience. Get a supportive ergonomic chair that can keep up with long 8 to 10 hour shifts with ease. This chair is so comfortable it can also be used as a gaming chair while you revel in an intense game against online players.
Fall into comfort on this ultra-padded swivel ergonomic office chair that'll add personality to your home office or professional office space.
Put that old chair to rest, having the support of an ergonomic office chair will help improve your attitude when you no longer must sit in discomfort.
This modern PM9020 office chair is equipped with a lever to control the seat height and activates the seat recline.
Mesh office chairs are popular due to their ventilated mesh material that allow air to circulate to your back, keeping you cool and calm.
Paired with a contoured padded seat with pressure relieving waterfall edge and a midback this semi executive office chair will integrate into any space.
If you like working with your chair raised high an adjustable arms chair is perfect allowing you to move the arms, while pulling yourself close to your desk.
You'll have no problem taking charge of your workday perched on this mid back ergonomic office chair.
You'll wish you had purchased this chair sooner, whether as a personal purchase or to accommodate your entire staff.

Specifications

Seat-Size: 20"W x 20.5"D
Back-Size: 19"W x 23"H
Seat Height: 18.5" - 22.5"H
Also suitable for use with stools ring (optional).