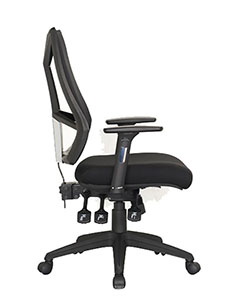 PM9017 - Ofice Chair Provides an Adaptable Seating Solution
PM9017 provides a versatile and adaptable seating solution for all office requirements. With functions that span multi-task, multi user, dedicated tasks, and general office work, this is the ideal chair for any situation.
Our chairs provide a comfortable solution for both dedicated and multiple office tasks requirements. Utilizing over 20 years of proven ergonomic design and patented technologies, PM9017 series offers the widest range of adjustability.
The Chairs can also be customized for support and for changing individual needs. The PM9017 series provides the widest range of adjustment options for customized support.
Available adjustments include back height, back angle, lumbar depth, seat angle, seat depth, tension control and pneumatic seat.

Features
Backrest: 5" Patented back height adjustment system, Dual curve backrest for lateral and lumbar support in 4 sizes
Seat: Dual density molded polyurethane foam, Seat pan in 5 sizes
Available mechanisms: Dedicated Task, Synchro Glide, Multi Tilt, Knee Tilt, Task Intensive
Base: 26" Glass reinforced nylon base, 5 Dual wheel nylon casters
Options: Fixed and adjustable arm options, Air lumbar and air thoracic, Optional back height ranges, Neck support, Seat sizes and foams, Additional casters and glide options.