PM17005HGY - Cool and Casual French Bistro Bar Stool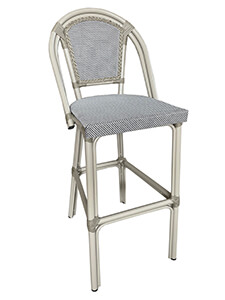 Celebrate the cool and casual with French Bistro PM17005HGY Bar Stool, versatile and stylish curvy back wicker & bamboo Bar Stool. Designed for the modern restaurant, home and office, this lightweight aluminum frame is furnished with a weight-bearing seat and supportive back so you can enjoy a day of relaxation.
Perfect for adding a modern twist to the beachside, restaurant or to the patio, this versatile bar stool is a fabulous addition to your living room or office. Lightweight and easy to clean, this beautiful natural looking wicker stool is a stylish yet affordable addition. Frame material: Aluminum grey. Craft: Welding and weaving.
Dimensions:
19W x 22D x 45H in.; Seat Depth: 17 Inches; Seat Width: 17 Inches
Color: Grey