PM1511 - Bar Stool Designed Specifically for Outdoor Use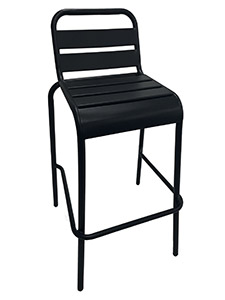 PM1511 bar stool is designed specifically for outdoor use, this barstool makes an excellent addition to restaurant and bar patios and other outdoor entertainment areas such as banquets and luaus. It's also lightweight so that you can easily move it around your outdoor setting for the best possible view. Your guests will love the opportunity to enjoy the temperate weather with the convenience and comfort of this stool!
This barstool is made of powder-coated aluminum that's durable enough to resist weather and corrosion. Its textured surface features a neutral matte gray color that's sure to match any decor and complement the natural tones of the outdoors! Thanks to its UV-resistant finish, the color won't fade over time even when left in the sun for longer periods.
For your convenience, this stool has a weight capacity of up to 300 lb. It is also stackable for easy storage.
Dimensions:
Length: 17" x Width: 16" x Height: 41"; Seat Height: 30"