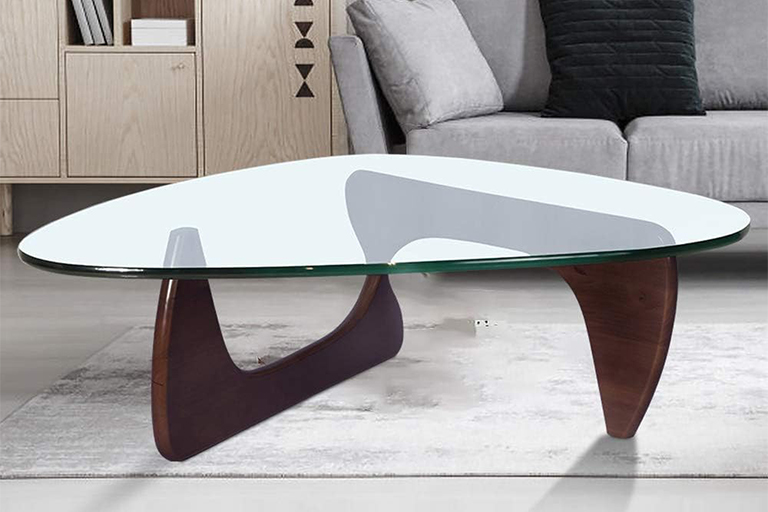 Tribeca coffee table replica of famour Noguchi designs
Originally introduced in 1947, this Isamu Noguchi design is one of the most iconic pieces of mid-century furniture. This coffee table, reproduced and distributed by us features a triangular glass top and two legs with asymmetrical design, giving it a very distinctive look among any coffee table design. The wooden legs provide a very stable support for any decorative piece on top of the glass, while remaining a statement piece by itself.
The Noguchi table reproduction is the perfect addition to any living room, office, or room. This sophisticated replica is an essential Mid-Century item that stood out from the moment it came public.
This high-quality reproduction is manufactured to the exact same specifications as the original.
The Noguchi Coffee table is modeled after Isamu Noguchi's design. The designer was a Japanese American artist and landscape architect who had been successful in the art world since the early 20th century and his career has spanned decades. Noguchi's signature work graces Paris, Hiroshima, Jerusalem, many places in the United States and more. Even a museum solely dedicated to Isamu Noguchi's works exists in memory of the designer.

Features:
Base interlocks to form a stable tripod for the glass top
Sculptured Premium hardwood walnut wood base
.75" thick slab of transparent glass with a unique round beveled edge
Functions as both furniture and art in homes and offices
Meets architectural specifications of the original design
Coats of UV-cured Polyurethane finish for a glass-like, highly scratch-resistant shine that never needs waxing
Materials: Premium Hardwood and clear tempered .75" premium tempered glass top.
Dimensions: 50" L x 36" W x 16" H
Top Shipping Dimensions: 50" L x 36" W x .75" H
Weight - 119lb
Leg Shipping Dimensions: 20" L x 3" W x 41" H
Weight: 17lb
Our Noguchi Coffee Table is not manufactured by Herman Miller and it is not Isamu Noguchi's coffee table original. We are not associated or affiliated with Herman Miller or Isamu Noguchi. We make no claims to provide the table from the designer and licensing company. Please be aware that Herman Miller is a registered brand.