EQQUS Cross Back chair - the seating of choice for the finest events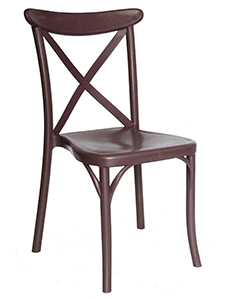 The classic distinction of a chair perfectly design in to create our popular EQQUS Cross Back chair, the seating of choice for the finest events worldwide.
This Cross Back chair has become one of the hottest furnishings in the industry. With its sleek design and curved back, the Cross Back has become an industry standard.
This EQQUS cross back chair is a wonderful addition to the event and wedding industry. It has been accepted greatly and is quickly becoming a standard which all event centers and equipment rental companies must have.
It is made of a high quality fiberglass reinforced polypropylene materials which looks like a high quality dining room chair.
Specifications:
• Material Type: Fiberglass reinforce polypropylene
• Stacks very efficiently up to 10 chairs.
• Impact resistant feet at the bottom of each leg to prevent splintering.
• Smooth edges and sleek design
• 280lbs Static Weight
• Overall Height: 34"
• Seat Height: 18"
• Overall Width: 16.75"
• Overall Length: 16.75"